SEO Purpose Tag
Importance of Choosing a Holistic Program for Online Schooling
As the world shifts from the physical to the digital, we are getting faster and better. The information age is signalling a much-needed change in all spheres of our life, including education. The online learning platform is coming to the fore, especially after the pandemic when its need and benefits became more evident.
But as more and more people switch to the online learning platform, particularly parents looking to apply to these platforms for their children, they have trouble choosing from among a diversity of program offerings online. Even though these programs boast of their benefits, the best program to go for is the one that has a holistic approach towards education.
A holistic approach in education aims to nurture students' emotional, social, ethical, and academic needs by integrating it with modern teaching techniques. The school environment is required to be positive and should meet both the academic and non-academic needs of students.
This approach takes education a step further by not limiting students to their textbooks, instead of making them question the ideas and opinions presented in the books. The students are encouraged to reflect upon the knowledge they receive in the global and local context of their lives. While globally, they consider the world's perspective and therefore their role as a global citizen, locally, they consider their community, what they can do for their community, and what they can learn in return.
Therefore, holistic learning is not just limited to theoretical knowledge but the application, contention, and relevance of material learnt. This form of learning gives students a comprehensive learning experience that helps them imbibe information easily and helps them develop as human beings. After such an education process, students are better equipped with the necessary skill sets and perspective to face the world and contribute to its betterment.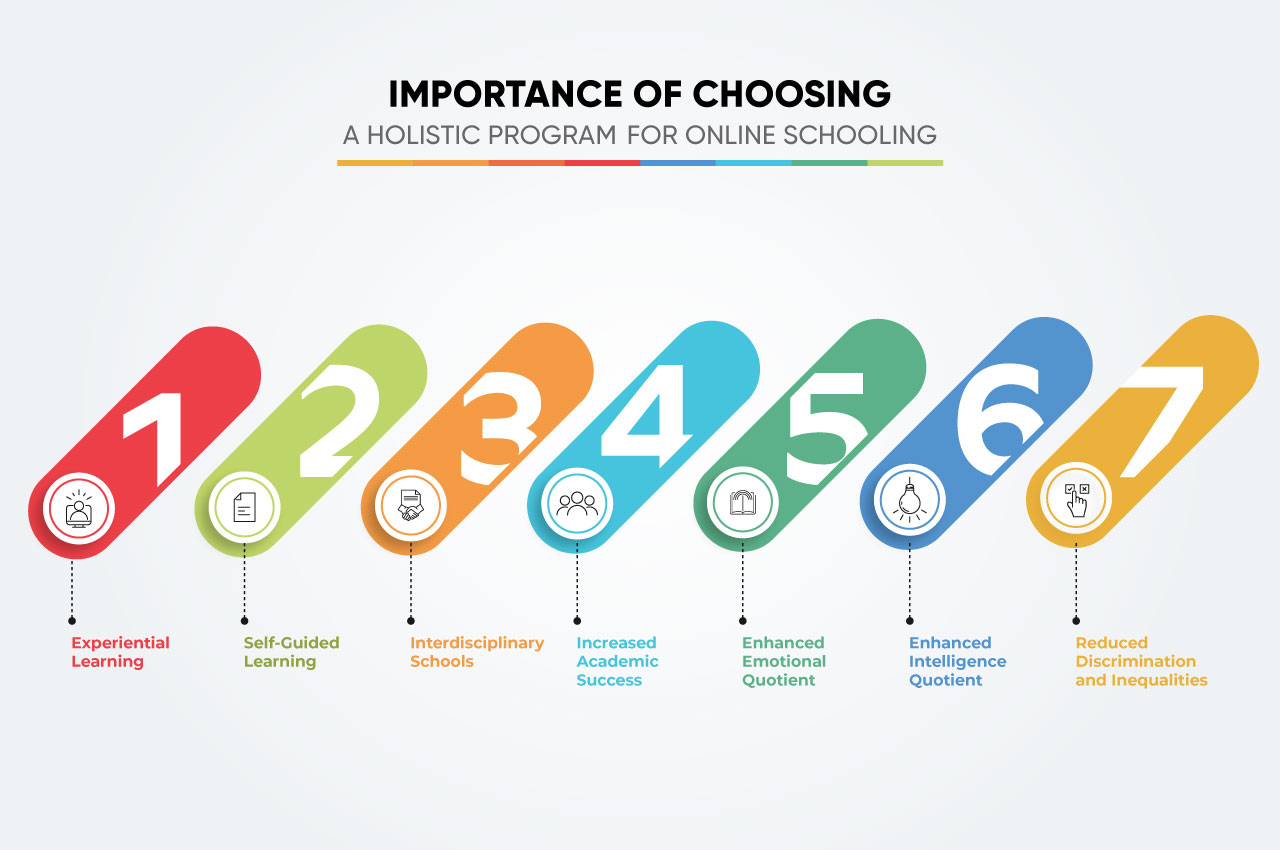 But how is this holistic experience incorporated in education? There are various approaches to it, and here are some models that you might come across while choosing the right online learning platform for your child:
Experiential Learning
"Learning by doing" is the basic mantra behind the Experiential Learning model. Students often work in groups to solve problems and complete tasks, which is concluded by reflecting on their experience while working on the task. This model of learning has a lot of scope for improving creativity, intelligence, emotional intelligence, and physique.
Self-Guided Learning
This model encourages students to work at their own pace, getting rid of the traditional one-size-fits-all approach towards studying. The learning experience is more personalized and relaxed, keeping each student's ability and learning curve in mind. The classes usually comprise students of different ages and learning abilities.
Interdisciplinary Schools
This model emphasizes incorporating different subjects into the curriculum and studying multiple subjects together, which has proven to help students with cognitive growth. Often, the classes will have thematic sessions where teachers from different disciples will speak on a particular topic, giving their diverse perspectives to the students.
These models of learning incorporate a holistic approach towards education which offers a lot of benefits to the students. Let's discuss some of these benefits in detail:
Increased Academic Success
A holistic education gives students both an emotional and intellectual experience, leaving a solid impression on their brains, and helping them retain information much more effectively. The approach also takes into consideration the learning curve of individual students and gives them ample opportunity and space to grow in a way that suits them best.
Enhanced Emotional Quotient
An online learning platform that follows a holistic approach towards studies gives students the emotional support they need, helps them thrive socially, and prepares them emotionally by bolstering their sense of self, confidence, and social responsibility.
Enhanced Intelligence Quotient
An Providing an immersive, hands-on experience to students, they get to experience challenges in the real world, pushing them to think on their feet and improve their problem-solving skills. They are required to collaborate in groups to gather and report data and then reflect on their lessons by critically evaluating and analyzing what they study.
Reduced Discrimination and Inequalities
The holistic approach pushes students to collaborate and work together, encouraging team spirit and camaraderie. The holistic approach has proven to give each student a chance to thrive and perform, leaving no room for doubt based on cultural or racial differences. The method reduces the negative psychological impact on students and promotes a healthy and competitive environment that fosters positive mental growth.
Therefore, while looking for an online school in India, make sure that the school has a holistic approach to education. The holistic approach, even though, is not a new idea and traces its origins to ancient Greece, was lost to antiquity during the industrial revolution when education focused more on producing industry-specific workers. Now, as the world changes and evolves, so should we. Students now need a more holistic approach towards their education so that they can explore their interests with more freedom while at the same time grow as socially responsible and happy individuals.
With so many online schools in India to choose from, it can sometimes become challenging to find the one perfect for your child. At The Class of One, one of the best online schools in India, we provide a holistic learning experience that will transform your child and prepare them for their future. For further guidance from our counsellors, Click here